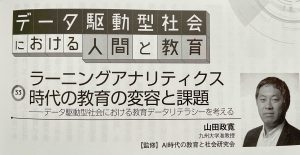 Dr. Eguchi, a professor in the Faculty of Education at our university, introduced us to the "Teaching Training" magazine published by the Institute for Educational Development, and I contributed an article on learning analytics to the magazine.
The purpose of the article is to explain what can be learned by utilizing the learning logs, how they can be utilized in the classroom, and what is necessary to promote classes based on learning analytics using the learning logs. We are talking about what the necessary literacy "educational data literacy" is as we move forward in the classroom.
If you have a copy, please take a moment to read it.